About Us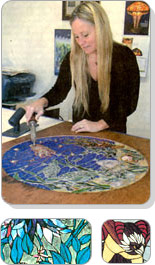 Vasiloff Stained Glass has 40 years of experience and expertise in custom designed stained and etched glass. Our glass works and designs may be found in many Connecticut restaurants, lounges, businesses and homes - all timeless heirlooms that will be treasured for years by generations to come.
Custom Glass Designs and More
We provide a variety of stained glass services including custom designs, doors, window panels, beveled and etched glass, cabinet inserts, specialty art pieces and more. We also provide restoration and repair services.
View samples of our work in our online Gallery or learn more about how Vasiloff Stained Glass can craft a space transforming work of art for your home or business: