In The News
Stained Glass Shop Opens in New London
By Susann Vlatom - New London Day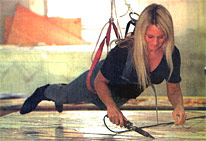 NEW LONDON - A small, innocuous building off Elm Street in New London is the birthplace of more than 1,700 strikingly lovely art glass creations located throughout Foxwoods Resort Casino.
Marsha Vasiloff Abrahamson of Vasiloff Stained Glass of Old Lyme and a colleague have created, manufactured and installed stained glass, etched glass, three-dimensional pieces and room and area dividers for the resort casino. They also created, the stained-glass tribal logo pieces in the Mashantucket Pequots' legal office in Washington, D.C., and have done hundreds of other residential and commercial projects worldwide.
Marsha and her late husband, Tony, had begun their studio in 1973, producing thousands of original lamps and windows, sold worldwide.
The opening of Foxwoods Resort Casino in 1992 contributed to the merging of two innovative, successful businesses. Now, Marsha is among the very few large-scale art glass companies still operating in the state.
"I really love it, and we're so fortunate to have a showplace like Foxwoods to display so much of our work," says Abrahamson. "It's really neat to be able to keep one of the oldest forms of art going."
"It has been challenging in this business and we're glad we are among the remaining companies that have stuck with it," echoes her colleague.
Their creations include the floral designs located along the casino concourse and in the original gaming room, featuring native flora such as the bleeding rhododendron. Tribal legend has it that the red spot in the flowers' center is the result of a curse by Puttaquapock, who survived the Pequot Massacre of 1637 but was later shot by English soldiers while lying on a bed of rhododendrons.
Other works in Foxwoods include a 4-by-18-foot floral backlit design in the baccarat room, and a 10-foot logo at the entrance to the executive suite. For the new hotel tower, Marsha and her colleague have created a 45-square-foot geometric centerpiece that will be mounted and backlit near the Rainmaker statue.
The piece took three weeks to design and manufacture, as did each of the 29 6-foot windows in the new smoke-free gaming area. By contrast, each of the smaller floral designs along the concourse required about three days, Marsha says.
Each piece is the result of a labor-intensive, mathematically-precise process of translating the design from paper to glass, creating a mold and patterns, tracing and cutting each section, wrapping them in copper foil and soldering the pieces together.
Many Dogwood design portals were created for the new hotel area and concourse. The largest one is 12 ft by 28 ft. The most recent addition is a natural mural 8'x 28' located in the newly renovated deli area. the theme includes apple trees, deer, raccoons and cornstalks. Also, two 10ft Tiffany style windows containing over 2000 pcs each were installed off the center slot machine area.